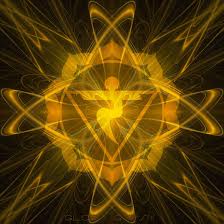 I hope you all are enjoying this series on the chakras as much as I am. If you really want to align your chakras you may want to enlist the assistance of crystals to do so, they can be very powerful indeed. As it so happens many of you already know I happen to be running a blog series on the very topic. Be sure you have my About Me page or Pinterest boards marked so that you don't miss a beat of these exciting discussions. And don't forget! There is still a few days left of Reader's Appreciation Month and I have oodles of time to take your questions so stop by Facebook or Twitter or even Google+ and ask your question. Today we are looking at the next in our chakra series the Solar Plexus Chakra. What is that? Let's have a look.
The Solar Plexus Chakra is known by a few things, it is also called the Yellow chakra or the third chakra. In Sanscrit it is referred to as the Manipura. The solar plexus chakra is located just an inch or two above your naval and is all about your mental abilities. It transforms energy into matter and shapes ideas into reality, helps you find your true purpose and calling in live and coordinates your self esteem.
When the solar plexus chakra is out of whack, so will all of these things. Many people with a poor solar plexus chakra are authoritative, dictatorship types, lots of fire energy, and they work to project superiority. They are workaholics, very fussy, have little tolerance for anything, and may even fear intimacy.
When the solar plexus chakra vibration is spinning slowly you will experience weak intentions, a fragile sense of determination, and just feel blah and void of purpose. Your self image will be destructive, you will feel very negative, and everything just feels out of whack. Physical symptoms of a poorly aligned chakra here can be ulcers, diabetes, panic attacks, confusion, stress, and fatigue. When it is balanced you will experience healthy relationships, success in both the physical and material worlds, and in the emotional world. You will feel vital, confident, spontaneous, and you will celebrate life. You are a very optimistic and good humored person if your yellow chakra is healthy.
And that's it for our solar plexus chakra friends, my friends. If you want to catch videos of my blogs be sure you are LinkedIn with me where I find videos from all over to share with my connections there. Next time we will look at the heart chakra. Until then, love and be loved friends. Love, Norah Guide