Planetary movements and how they affect you
The two fastest moving heavenly bodies we track in astrology are the Moon and Mercury. The Moon tends to have an influence on our moods and emotions, while Mercury affects our intellect, as well as how we communicate and move around our immediate environment. If you want to learn astrology on a deeper, experiential level, try learning to sense the different energies you experience on all levels, physically, mentally and emotionally, as these two planets do their circular dance through the zodiac.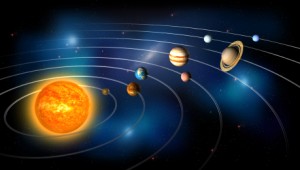 Moon
We begin the week with the Moon in adventurous Sagittarius today and tomorrow, which may make people yearn to explore new territory in same way. On Wednesday, the lunar orb passes into Capricorn, making us more concerned with boundaries and structure. Thursday the moon continues in this cardinal earth sign, and then on Friday, it makes its transition into forward-thinking Aquarius. This sign relates to group energies, so this weekend may be a good time to plan activities with several friends rather than a small intimate tete a tete with just one close confidant.
Mercury
Mercury starts this week in boisterous and impulsive Aries, then on May 9 shifts into Taurus, for a slower, more thoughtful energy. Shortly after it enters Taurus on Wednesday, Mercury will form a positive angle with Neptune in Pisces, making it likely our focus on earthly Taurean matters will be blessed with a glimmer of Piscean romanticism.
Mercury will remain in Taurus until May 24, when it moves into Gemini, one of its two homes signs. At that point, with Venus and Sun already in this highly communicative sign, the energy will tend to become highly social.
Aspects
Other astrology news for this week includes some aspects which may make us chafe against the status quo, or become restless and then act too hastily and possibly experience accidents. Mars, planet of action, forms a quincunx with Uranus, planet of sudden changes and rebellion. Later in the week, the Sun will also have a tense aspect with Uranus, in the form of a semi-square (to read about the meaning of the aspects mentioned here, read my articles here and also here).
There is a very positive aspect coming into orb right now, although it will not become exact until next week. Venus, which often bestows blessings, in addition to influencing relationships and artistic matters, will be making a perfect trine to Saturn, planet of order and maturity. Check your chart to see if you have any planets or sensitive angles at or near 24 degrees Libra or Gemini, as this would tend to indicate you will feel this benefits of the connection between the two strongly.
If you are new to astrology, be sure to get a guided tour of how the upcoming planetary changes will affect you by getting a reading.