Astrology for May 21 and looking ahead
Did you feel the sense of shift and a surge of new ideas Sunday?  Even if you were not actually watching the eclipse, its energy still has an effect. The optimism and sense of new beginnings you may have felt with yesterday's Gemini New Moon is road-tested against reality today.  Today Gemini's ruler Mercury, planet of communications, transportation and ideas, forms an awkward angle (a quincunx, also known as an inconjunct—learn the meaning of this aspect here) with Saturn, planet of limitations.  You may find obstacles require that you re-adjust your plans and/or apply extra diplomacy.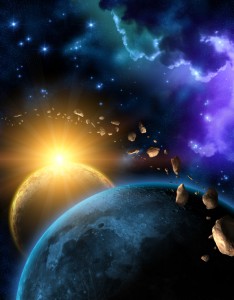 Tomorrow promises better things, however, as Mercury will briefly sit at the same degree in Taurus as Jupiter, planet of generosity and expansion.  The reality principle remains in effect, however, since Mercury will also feel a slight pinch from suspicious Pluto.  Remember Don Miguel Ruiz' "The Four Agreements" principle #2: Don't take anything personally.  Consider that Plutonian energy as a positive, an opportunity to double-check the over-enthusiasm and neglect for details that can result from Jupiter's influence.
Moon moves from air to water
Mid-week, emotions may come into the picture more strongly as the Sun squares (challenges) Neptune and the moon moves from Gemini into moody Cancer.  Mercury will also square Neptune toward the end of the week.  The overall effect may be about integrating compassion into the newborn Gemini ideas from Sunday, or you may experience some sense of vagueness and dreaminess.
General vs personal transits
Remember, these reports relate to current movements of the planets in relation to each other and the astrology weather conditions these movements create for everyone.  Important transits show up in political events, social movements and even natural disasters, all of which have some effect on us, but not always an immediate or direct one.  A more personalized level of looking at the sky is to know how the transiting planets affect your natal planets.  Consult Norah or one of her associates to learn how the astrology weather will have an impact on you.